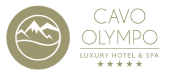 Mount Olympus
Olympus is the highest mountain in Greece rising to 2.918 meters. It has 52 peaks, deep gorges, and exceptional biodiversity. In Greek Mythology it was notable as home of the Greek Gods. Olympus has been conserved as a National Park in Greece since 1938 and is also part of the World's Biosphere Reserve.
Our neighboring village Litochoro is the starting point for thousands of hikers and mountaineers each year who wish to hike or climb the East slope of Mount Olympus.
The "Greek Mountaineering Club" and the "Club of Greek Climbers" both have their headquarters here and provide information and assistance to any climbers as well as guides and mule-drivers for those who wish to use animals to assist them with their climb. Both clubs also have offices in the town of Katerini.

4 basic routes with various levels of difficulty begin in the area of Litochoro are found on maps:
• Litochoro - Enipeas Gorge - Old Monastery of Agios Dionisios - Prionia
• Prionia - shelter "Spilios Agapitos" - Peaks
• Litochoro - Livadaki - Kalogeros - Peaks
• Diastavrosi or Gortsia - "Plateau of the Muses" - Peaks

A beautiful hiking route on lower Olympus joining three old villages is:
• Palei Pori - Palios Panteleimonas - Ano Skotina

Here are some of many mountain tracks beginning on the North East side of the mountain:
• Dion - stream "Orlia" - Koromilia - Petrostronga
• stream "Agia Triada" - Papa Aloni
• Agia Triada - Krevatia - Barbalas - "Plateau of the muses".
Pieria Mountain Range
Hiking and mountaineering is of course not limited to Mount Olympus, but extends to the Mountain Range of Pieria, known as the "Home of the Muses of Pieria", the patrons of art and science.
Here you can take peaceful walks on paths of exquisite natural beauty. Those of you seeking excitement and adventure will find plenty of paths through Pieria to stir up the heart and emotions.
All the main routes through the Pierian Mountains converge on the two refuges, shelters situated at 1000 m and 1680 m respectively. The first shelter is situated in the village of Ano Milia, and belongs to the "Greek Mountaineering Club" of Katerini. The European mountain path E4 crosses Pieria at this point on its way to Olympus.

Three beautiful routes start from Ano Milia and lead to the top of the Pierian Mountains:
• Ano Milia (E4) - Toufes Karageorgi - Avdella - Flambouro
• Ano Milia - Pente Pirgoi
• Ano Milia - Monacho Nero - Chteni

The second refuge is located at the point "Srakatsana" and belongs to the "Club of Greek Climbers" of Katerini.
Many important routes starting from the village of Ritini and "Paliopanagia" converge at Sarakatsana with its picturesque mountain chapel.
• Ritini - Kastanario - Likopigada - Sarakatsana
• Paliopanagia - the Forest of the Perennial Beech Trees - the spring "Zoe" - the stream "Kati" - Sarakatsana.
• Sarakatsana - "Spring Kati" - Arvanitis

If you continue upwards you will reach the peak of the Pierian Mountains, Flambouro.

An unusual route of historical interest starts from the village of Palia Vria:
• Palia Vria - Sentoukia (ancient marble quarry) - Marmaro - Monacho Nero

You can reach the ski resort of Elatochori along an asphalt road. A cross country route starting here is:
• Papa Chorafi (Ski Resort) - Saltapida - Arvanitis - Lapousi - Flambouro
Plus de pages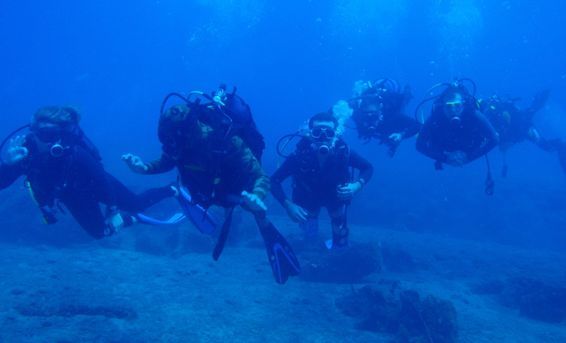 SCUBA Diving
Enalios Diving Center, founded and managed by Mr. Asterios Markopoulos, is certified by PADI, CMAS,...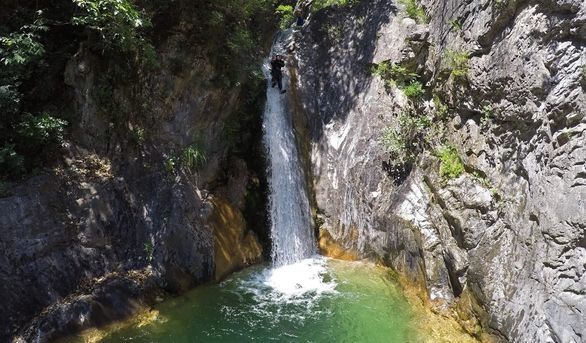 Canyoning
Cavo Olympo cooperates with Olympus Path, a local adventure trip provider who specializes in Hiking...